Hotel Rooms
Please call for rates and reservations:
(570) 966-5400
Reservations cannot be made more than 1 year in advance.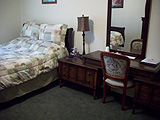 Single Bed w/ bath
European Style Room
w/ community bath
Our Motel is located behind the main building and features handicapped accessible rooms.
AAA Member
Rates Available

The Mifflinburg Hotel
All of our eighteen hotel/motel rooms have been totally renovated and restored to reflect the classic Victorian-era style.
We have complimented our new renovations with modern perks and amenities to grant you the best night's sleep possible.
The Mifflinburg Hotel was constructed in 1858 by Jacob Decard. Around 1915 it became a temperance hotel and shortly after there was a devastating fire. In the 1920's the hotel was restored and the balcony was added. Since then the building fluctuated between a hotel/restaurant, banquet facility, and boarding house.
In 2004 the hotel was purchased by Norman E. Buck. Since the purchase, the Buck family has extensively renovated the Mifflinburg Hotel and reopened it with it's former luster in 2007.

Room 101
Handicapped - 1 Full Bed-$99


Room 102
Handicapped - 1 Full Bed-$99


Room 103
1 Full Bed-$99


Room 104-
1 Full Bed-$99


Room 201
(connects to Room 202)

1 Queen Bed with bath-$99


Room 202
(connects to 201)
1 Queen Bed / No Bath-$79


Room 203
(connects to 204)
1 Queen Bed / No Bath-$79


Room 204
(connects to 205)
1 Queen Bed No Bath- $79


Room 205
(connects to 204)
1 Queen Bed with Bath-$99

Room 206-
1 Queen Bed with Bath $99


Room 301
(connects to 308)
1 Queen Bed / No Bath-$79


Room 302
(connects to 303)
1 Queen Bed / No Bath-$79


Room 304
( Suite connects to 303)
2 Queen Beds with Bath -$129


Room 305
( Suite connects to 306)
1 Queen Bed and 1 Full Bed with Bath-$129


Room 307
1 Queen with Bath-$99

Room 308
(connects to 301)
1 Queen Bed with Bath-$99